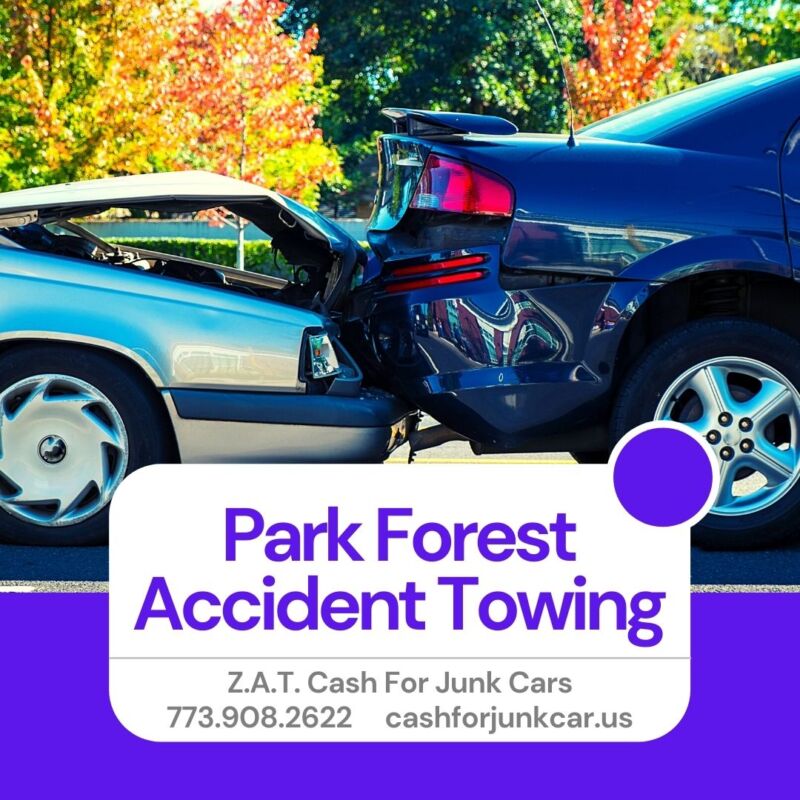 You've gotten into an accident.  Now what?
Whether you've just been involved in a significant car accident or your vehicle has broken down on the side of the road, you may find yourself in need of a tow.  Often, coming down from the adrenaline of the situation and the stress of cost and inconvenience can cloud your mind on what you should be doing.  First of all, take a breath.  Now follow these steps from Z.A.T. Cash For Junk Cars Park Forest.
Call Insurance – Before you call a tow company, call your insurance carrier.  Many offer a refund for towing services.  They often calculate this based on distance it needs to be towed and prefer you to use a tow company of their choice.  You can find out how much you'll be refunded and get information for companies they work with.
Talking With Tow Companies – Do not settle for the first company you talk to.  Call a few to find one that works better for your budget and needs.  Be sure to ask for a price estimate.  You should know prior to them showing up what you will be charged.  The two ways in which a towing service charges is either per mile or a flat fee.  Which works better for you will depend on the distance you need to go.  For instance, if you are a long way from the destination you would like the car towed to, a flat fee is probably your best bet.
Find out what payment methods they accept so you can be prepared when the driver shows up.  Ask them how they will tow your car.  Most companies use flatbeds, which is much easier on the vehicle towed.  Some use hook and chain, which can actually cause more damage than necessary.  You should also know where your car is going.  This isn't an issue if you're having it towed to your property or an auto mechanic of your choosing.  If you're in an unfamiliar area, you might not know where to have the vehicle towed to and need recommendations from the tow company.
Before The Tow – There are several things to do before the tow truck driver arrives on scene.  First of all, take pictures of your vehicle.  This is mainly for your insurance company.  You may never even need to use them.  It's also simply for your own peace of mind in case something should happen during the tow and your car sustain damage.   Take a moment to remove all valuables and important documents from your vehicle.  From the tow to the repair shop, you may not have your vehicle for several days.  Having everything you need on you will help you file claims and get the necessary repairs.  You don't know how many different people will be accessing your car during this process so better safe than sorry when it comes to valuables.
The Receipt – Always get a receipt from the tow company.  Make sure it's the original receipt and make a copy for yourself.  You will need to present the original receipt to your insurance company when making a claim.  It's your proof that you DID have your vehicle towed.
Having a vehicle malfunction or being involved in a car crash is scary enough.  By following these simple steps, you can rest assured that you've done everything necessary for a successful tow and subsequent insurance claims you may need to file.
It doesn't matter if you're in Park Forest or the greater Chicagoland area, our towing specialists can assist you.  With competitive rates and courteous, attentive service, we'll get your vehicle where it needs to go.  Not only do we provide superior towing services but we buy junk cars in Park Forest.  From breakdowns to selling clunkers for same day cash in your hand, Z.A.T. Cash For Junk Cars is ready to help!
Find out what Park Forest Z.A.T. Cash For Junk Cars can do for you by calling 773.908.2622 today!