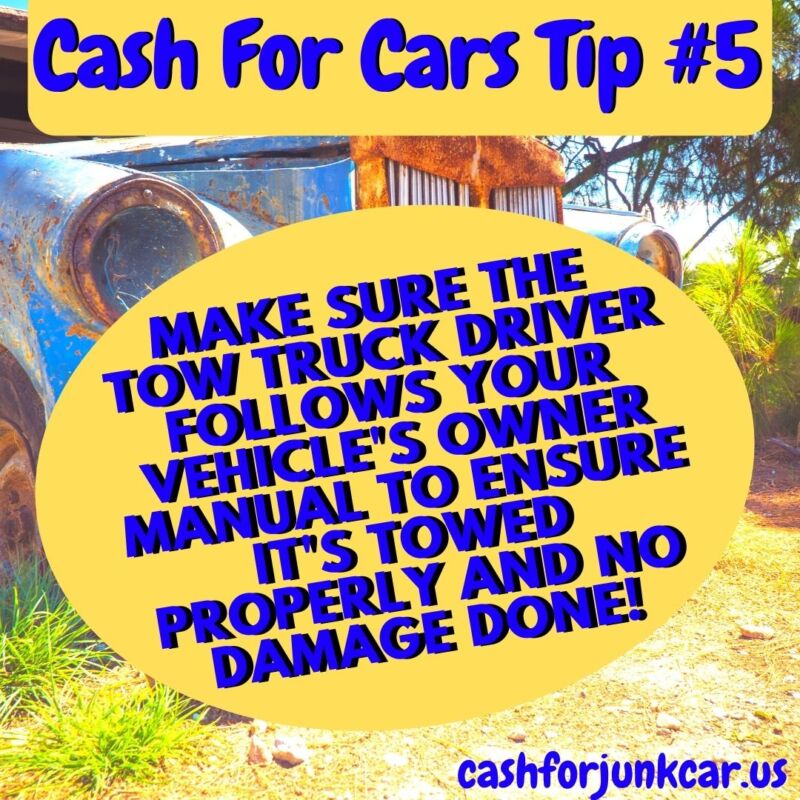 Make Sure The
Tow Truck Driver Follows Your Vehicle'S Owner Manual To Ensure It's Towed Properly And No Damage Done!
Our Z.A.T. Cash For Junk Cars in Berwyn crew reminds us of a very important tip when using a tow company.  With how sophisticated and complex current vehicles are, it's important to read the owner's manual to find out how to tow that exact make and model.  If the tow driver refuses to look at your manual or will not tell you how your car needs to be towed, you should refuse their service and call another company.
Not understanding how a particular vehicle should be handled can lead to severe damage and expensive repairs that you didn't need in the first place.
For instance, on Subaru Legacy, Impreza and Forester models (all-wheel drive vehicles), all four wheels need to be off of the ground in order to be towed.  This is a situation where you would want a flatbed tow truck.  If you were to hook and drag the vehicle, the transmission or transaxle could burn up and be significantly damaged.  Since all four wheels receive power and are essentially linked together, any wheel that moves during an improper tow causes mechanicals in the transmission, and often the differential as well, to move.  The engine isn't on so there are no fluids rushing to lubricate these moving parts causing it to burn up.
For front or rear wheel drive vehicles, whichever set of tires handles the driving should be off of the ground during a tow.  Some cars, such as certain Saturns, can be flat tows which is towing with all four tires on the ground.  There are so many makes and models of vehicles on the roads of America today that it's best to be cautious and read your owner's manual for the proper way to tow your particular car or truck.
Again, if the tow truck driver doesn't have much experience with your particular vehicle and refuses to read your owner's manual, do NOT use them.  Hire another service who will put the safety of your car first and tow it correctly.
A big thanks to our Berwyn Z.A.T. Cash For Junk Cars towing service for such an important tip to remember!
Whether it's a breakdown or an accident that has left your car completely undriveable, call the Z.A.T. Cash For Junk Cars Berwyn specialists at 773.908.2622 today and get back your peace of mind!