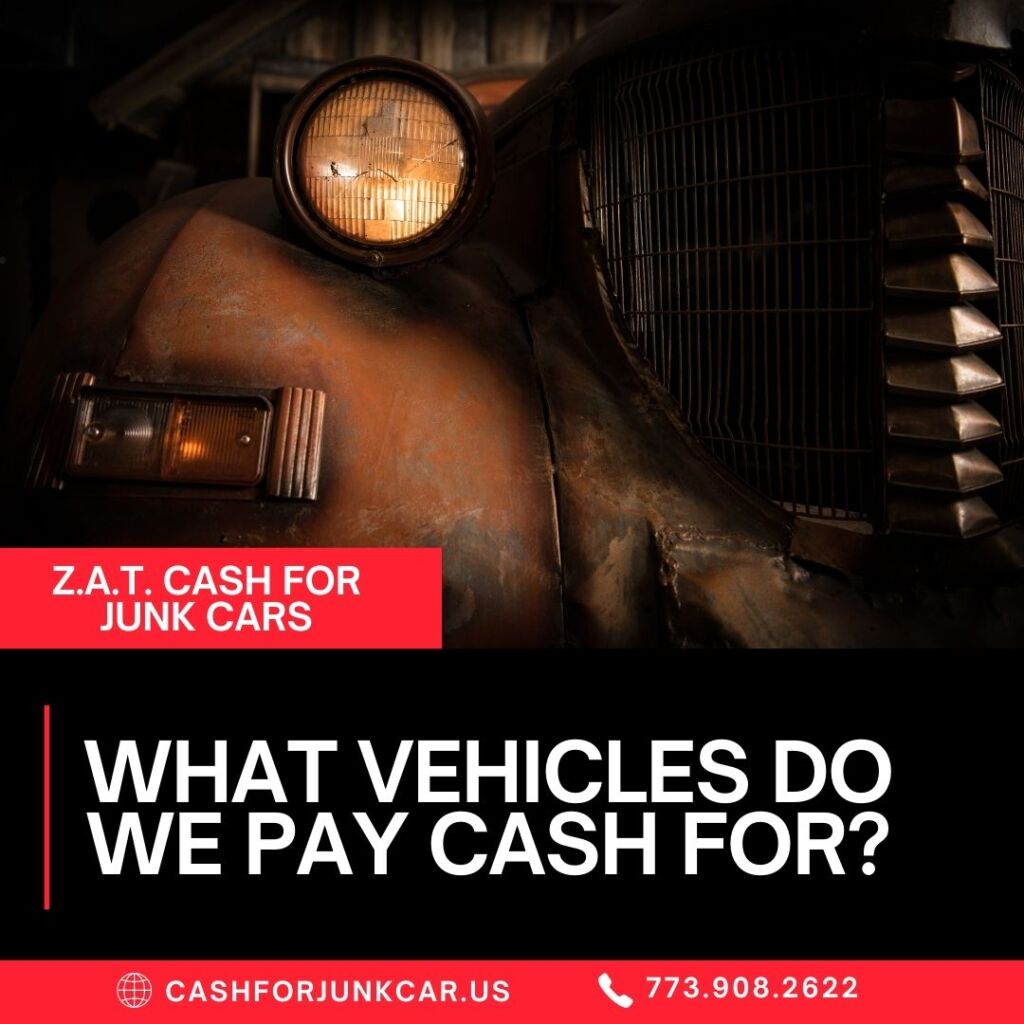 What Vehicles Do We Pay Cash For?
ALL VEHICLES.  Seriously.  It doesn't matter if it's a car or truck, 10 years old or only a few years old – Z.A.T. Cash For Junk Cars will make you a cash offer.  Just give us some basic information, such as make, model, year, condition, etc., and our experts will craft an offer that puts cold, hard cash in your hand.  We even tow the vehicle away AT NO COST TO YOU.  That's definitely a win.
Worried about the condition of your vehicle?  Don't be!  We've seen it all and have likely already bought many vehicles in the same condition as yours.
Old cars and trucks
Fire damaged vehicles
Water damaged vehicles
Wrecked Vehicles
Rusted Vehicles
Cars, Vans, Trucks, SUVs
It doesn't matter – we can buy it.  At Z.A.T. Cash for Junk Cars, we try to make the process of getting rid of that clunker as easy and beneficial as possible for you.  Whether you need that space in your driveway or simply need some fast cash, we can help take that burden off of your hands.  No hidden fees, no hoops to jump through – we offer you cash and tow it away for FREE.
Misplaced your vehicle title?  No worries!  With the proper state-sanctioned forms and owner's signature, you can still sell your car for cash even if you have lost your title.
Before our cash for cars specialist arrives, make sure you have collected all important belongings out of the vehicle.  Paperwork, cards, money, watches – clear out all important personal items.  Check under the seats, in center consoles, the glove box and visors for anything of value that you may want to keep.  You should also take off your license plates because they can be returned to the DMV.  Taking the time to do this prior to our arrival is a great way to make sure you don't lose something important forever.  It also saves time when the Z.A.T. Cash for Junk Cars specialist arrives.
Yep – it really is that easy.  Just remember that no matter the condition of your vehicle, Z.A.T. Cash For Junk Cars is here to help!
Ready to get rid of that old car?  See how Z.A.T. Cash For Junk Cars can help by calling 773.908.2622 today!