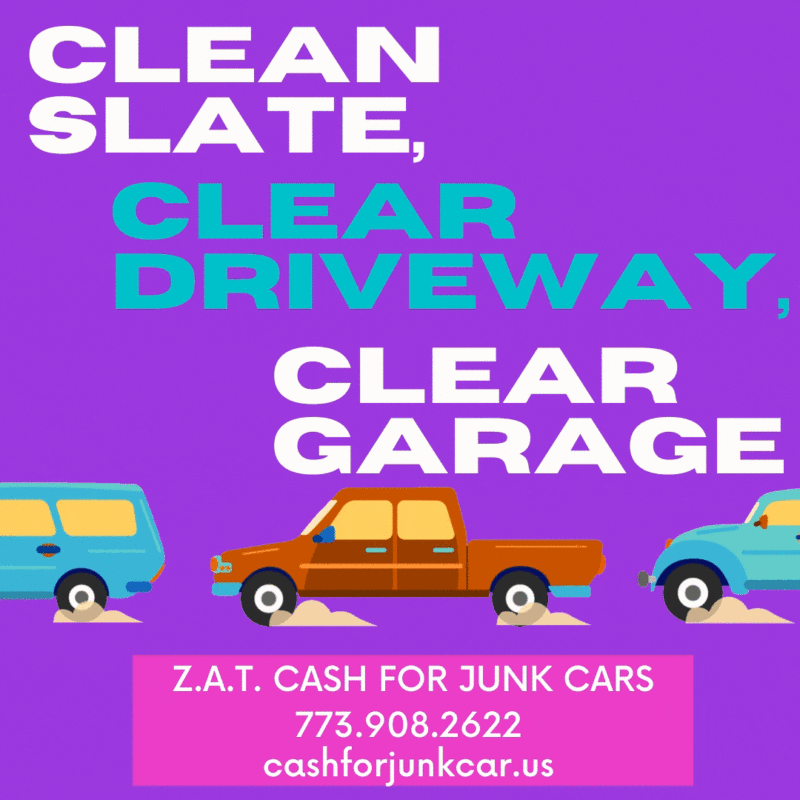 If 2020 has taught us anything, it's to embrace the present and make the most of what we have.
Nothing could be more true when it comes to your space.  The new year is a perfect time to clean your slate and organize your space.  Whether it's clearing out the junk that holds you down or getting rid of broken projects you'll never get around to, purging excess from your life feels good both mentally and emotionally.  You feel less overwhelmed, less boxed in and flooded with feelings of hope and aspiration.  It also comes in handy when it's time to move because you aren't dragging piles of clutter behind you!
One great way to start clearing space is to get rid of junk cars.  Whether they are broken to the point they no longer drive or sputter each day costing you big in repairs, it might be time to say goodbye.  It can be hard to determine when it might be time to let go but here are a few things to think about…
Does It Run?
If YES, why is it sitting taking up space and not being used?  Vehicles tend to rot over time.  Instead of saving it for a "what if" scenario, how about letting someone who needs to use it do so?
If NO, why keep it?  A car rusting away in your driveway or on your property is only increasing the likelihood of more issues occurring and higher repair costs.  Non-running vehicles can pose health and safety hazards as well by leaking certain fluids or having outdated life-saving features.
Is It A Classic Car Or Collectible?
If YES, there is definitely appeal to keep it.  You may want to drive it around for show, pass it on to your family or sell it for more.  If the car is in prime shape, save it.  It's only cars that don't run or are a "work in progress" that raise the question – WILL you restore it?  If you don't have the mechanical skills to do so, do you believe you will take the time to learn how to restore an old car?  If you plan on letting someone else do so, do you have the money it takes to complete the project?  If that car is sitting rotting away until you can "SOMEDAY" work on it, you may find it falling further into disrepair, increasing the repair costs and depth of work needing to restore it.  It may be worth thinking over.
If NO, why keep it?  A non-collectible car won't be worth much and will only clog up space for a better vehicle.
Are You Hanging On To A Vehicle Due To Sentimental Reasons?
If YES, there is a definite understanding to why you would do this.  It can be hard to let go of loved ones we have lost and we tend to cling to anything that reminds us of them.  Unfortunately, cars that aren't running or never driven may begin to slowly deteriorate.  Not only can they leak harmful fluids but they can become quite costly to fix as issues escalate.

If they RUN, they should be used by you or someone who could benefit from a working vehicle.
If they DON'T RUN, they will take up space, becoming eyesores and hazards until you are forced to remove them.
If they are COLLECTIBLES or CLASSICS, please see the section above titled "Is It A Classic Car Or Collectible? "
Are You Having No Luck Selling The Vehicle?
If NO, make sure you collect the payment in cash.  Checks can be stopped and credit cards can be disputed.  Also, make sure you do NOT have to pay to have it taken away and make it clear up front that the Buyer is responsible for collecting the vehicle and any fees associated with that endeavor.
If YES, your vehicle may just need to be scrapped.  Sometimes a car or truck is just too old, needs too many repairs, isn't safe or is seen as more of a burden than a blessing.  It happens.  It's not wise to hang on to the vehicle for the perfect buyer to magically come along "SOMEDAY".  While you're waiting for that someday, the vehicle is steadily declining, becoming even less appealing or saleable.  You can contact a junk car buyer, like Z.A.T. Cash For Junk Cars, that will give you cash for that car, on the spot, and even tow the vehicle away at NO COST to you.  You make money and don't have to worry about logistics.
There is definitely something magical about the New Year.  It sparks hope inside of us – a determination to change our circumstances for the better.  If you can clear space and make some money, it might be time for you to get rid of that junk car.  No matter what change you are looking to make in the new year, we wish you a very prosperous 2021!
Ready to get rid of that old car?  See how Z.A.T. Cash For Junk Cars can help by calling 773.908.2622 today!