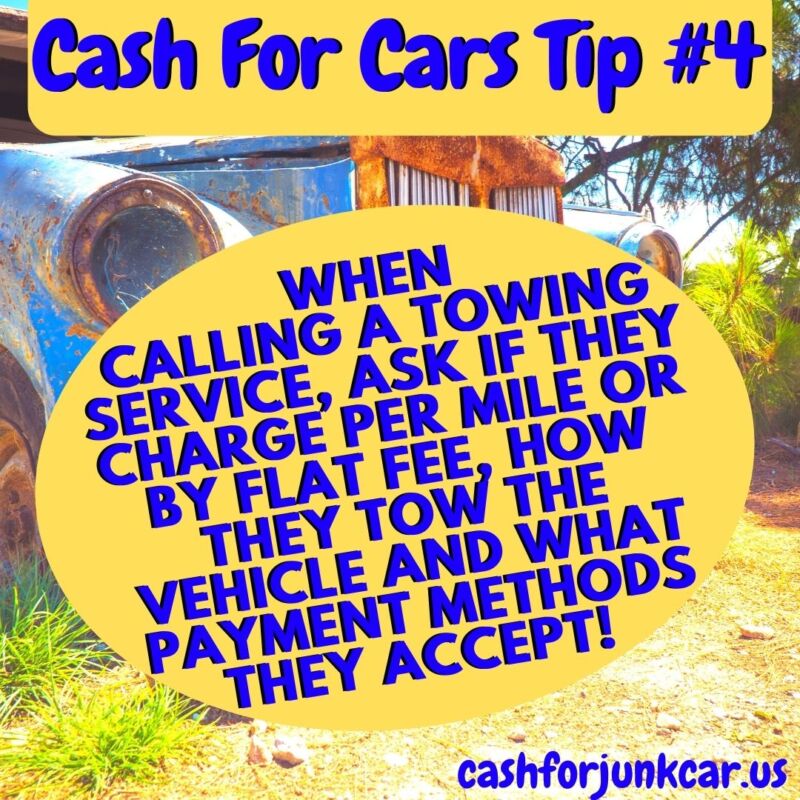 When
Calling A Towing Service, Ask If They Charge Per Mile Or By Flat Fee, How They Tow The Vehicle And What Payment Methods They Accept!
This week's tip comes from our Z.A.T. Cash For Junk Cars in Oak Lawn.  Being a high traffic area around Chicagoland, breakdowns or accidents are not just a major inconvenience in your day but can be downright scary – especially for new drivers or anyone who has never had to call a towing service before.  Fear not – by getting the answers to these few simple questions, you can save yourself a ton of time, headache and money!
First of all, every tow company is different.  It's best to call several before you make a definite choice and remember that, whether the company is based directly in Oak Lawn is irrelevant.  Tow truck drivers are usually already on the roadways and can make their way to you easily.  When speaking with these tow services be sure to ask for a price estimate.  Some companies will charge by the mile while others use a flat fee.  Which option you choose will depend on what is more cost-efficient for your situation.  For instance, if you are far away from where your car will be towed, it may be a better option to use a flat fee company while those that need to be towed a short distance will benefit far greater from a per mile charge system.
It's also a great idea to ask the towing service what payment methods they accept.  Some companies, depending on the situation, ask for cash so this will give you time to walk over, or have a friend drive you to, an ATM.  Cash may not be accessible to you based on where you're stuck so you may want to work with a towing service that accepts card payments.
Another great question to ask a towing service is how they plan on moving the vehicle.  The company will either use a hook and chain method or a flatbed.  This is important because using a hook and chain method on a car or truck that has just been in an accident can cause more damage to the vehicle.  Using flatbeds avoids creating more damage overall.  Be sure to let the towing company know the extent of damage your vehicle sustained if it was just in an accident.
A big thanks to our Oak Lawn Z.A.T. Cash For Junk Cars towing service for such great advice!
Whether it's a breakdown or an accident that has left your car completely undriveable, call the Z.A.T. Cash For Junk Cars Oak Lawn specialists at 773.908.2622 today and get back your peace of mind!