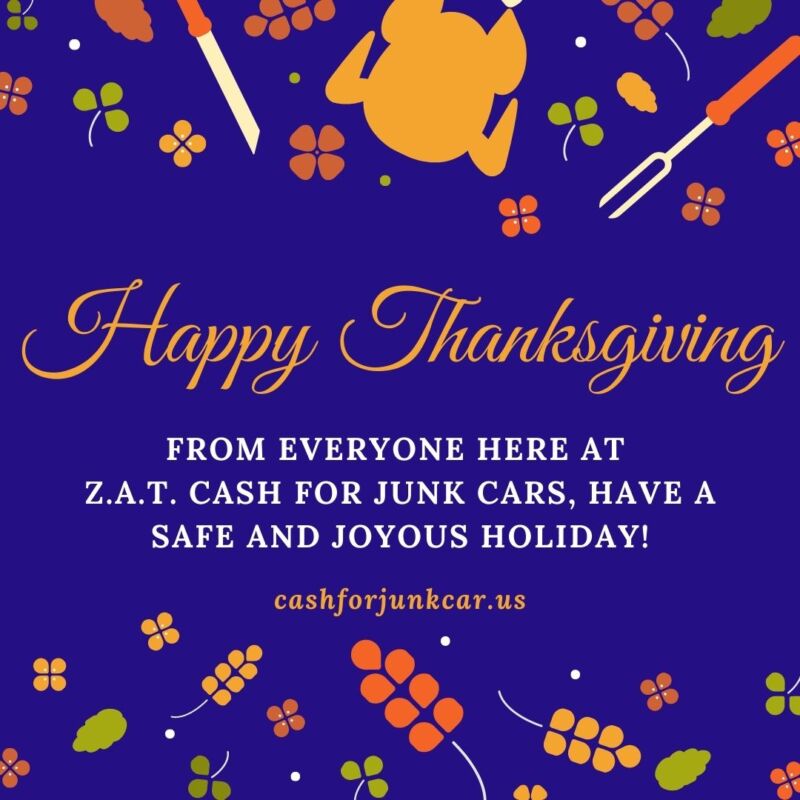 May all the good things of life be yours, not only at Thanksgiving but year 'round!
No matter how you choose to celebrate this year, the entire crew of Z.A.T. Cash For Junk Cars wishes you an amazing Thanksgiving.  Hopefully it is full of love, laughter and plenty of delicious food!
While you may be inside eating and enjoying the season, the last thing you want to think about is that clunker in the driveway.  Check out our tips on How You Know When It's Time To Junk That Car and rest easy knowing you got the most you could out of your vehicle.  Then get back to that turkey and stuffing!
If you walk out of your Thanksgiving festivities and notice that your vehicle is no longer parked on the street, don't panic.  Instead, take a look at What To Do If Your Car Is Towed.  Not only do we fill you in on the proper steps to get your vehicle back, we share how you can quickly find out if it was towed in the first place.
There's so much to appreciate as we gather 'round our tables to feast.  One thing that should be just as easy and stress-free is getting rid of your junk car.  At Z.A.T. Cash For Junk Cars, we offer same day cash, competitive offers and instant towing to remove those burdens from your shoulder quick and easy.  No fuss – no headaches.  To find out how you can make some cash and clear room in your driveway, give us a call.
Need to get rid of that old car?  Find out what Z.A.T. Cash For Junk Cars can do for you by calling 773.908.2622 today!