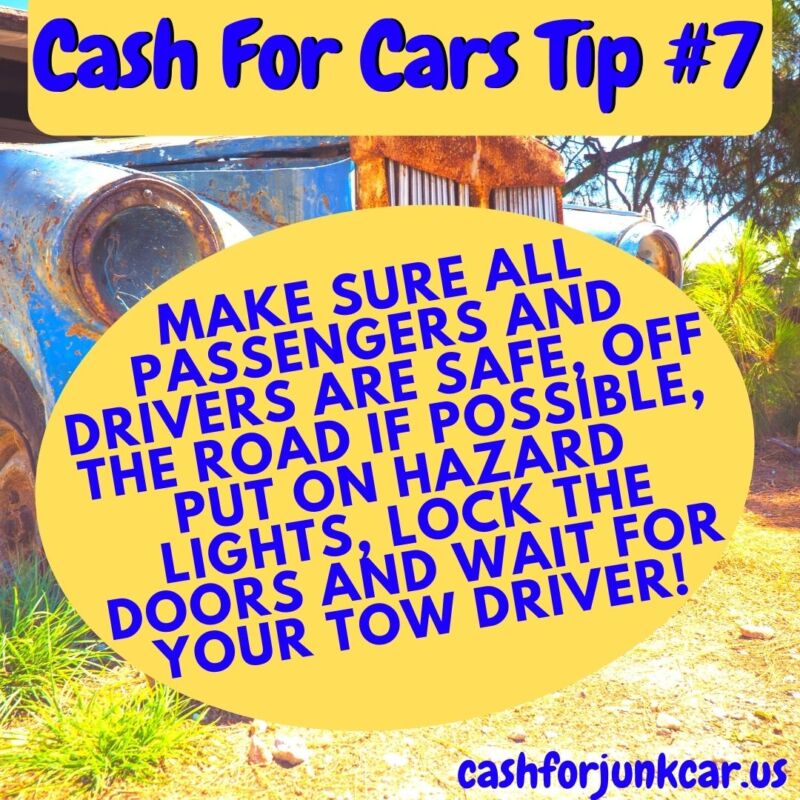 Make Sure All Passengers And Drivers Are Safe, Off The Road If Possible, Put On Hazard lights, Lock The Doors And Wait For Your Tow Driver.
Some much needed safety tips from our Chicago Z.A.T. Cash For Cars crew…
There are many reasons you might need to call a tow truck company – flat tires, lock outs, breakdowns – but the most important thing you can do while you wait is to stay SAFE.  This is especially crucial in the winter, when icy roads can create big problems for those encountering stranded vehicles.
Park Safely – If possible, make sure your car is parked off of roadways away from approaching traffic.  Try to pull into parking lots or on the shoulder with ample room for cars to pass you.  For those instances when you can't move your vehicle and use flares or cones to warn oncoming drivers that your vehicle is disabled.  This will help reduce the risk of unsuspecting traffic slamming into you.
No matter what happens, ALWAYS put on hazard lights – this indicates a warning to other drivers.
Stay In Your Vehicle – Unless your vehicle is on fire or completely unsafe, stay inside until the tow truck arrives.  Keep your doors locked so family will not leave the vehicle.  This keeps you safe from busy traffic and people with not-so-great intentions.
Stranger Danger – While there are some really nice folks willing to help out, exercise caution.  It's not advisable to accept rides from strangers.  Your best bet is to stay inside your vehicle, with the doors locked, windows up and wait for your authorized tow truck driver and/or police officers to arrive on scene.
Ask For ID – When you call a tow truck company, ask who the driver is and any other information to help you identify that person.  This protects you from people wanting to cause harm by posing as a tow truck operator or fly-by-night, scam companies that take your vehicle and attempt to extort money from you.  Only work with the authorized individual dispatched by the tow company.
Never leave your vehicle unattended for any amount of time.  This affords criminals an opportunity to loot the vehicle or strip it for parts.  Call your tow company, confirm the service and then wait for the tow driver to arrive.
Sometimes, especially in bad weather, we panic and feel like walking to a service station instead of staying in the vehicle.  You put yourself at greater risk walking along roadways in bad weather.  In the age of cellphones, it's best to stay put and wait for help.  Unless you're in the service station parking lot or it's right across the street, take a breath, stamp down the panic and wait patiently for assistance.  It's a good idea to pack an emergency bag that you leave in your vehicle complete with toilet paper, water, snacks, warm blanket(s) flashlight, first aid kit, etc.
A big thanks to our Chicago Z.A.T. Cash For Junk Cars towing service for giving us some much needed safety tips!
Whether it's a breakdown or an accident that has left your car completely undriveable, call the Z.A.T. Cash For Junk Cars Palos Hills specialists at 773.908.2622 today and get back your peace of mind!