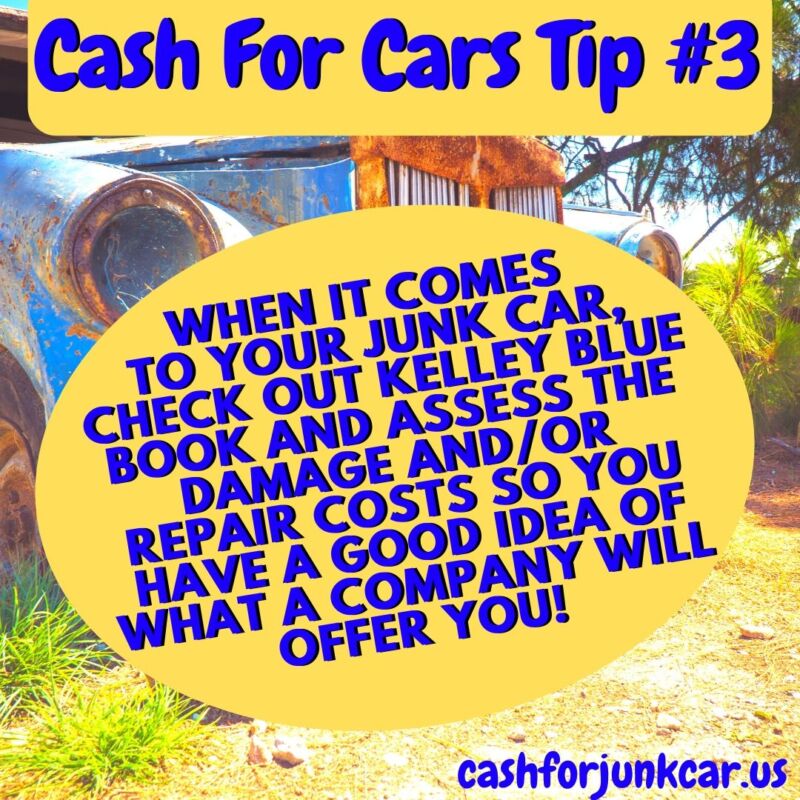 When It Comes

To Your Junk Car, Check Out Kelley Blue Book and Assess The Damage and/or Repair costs So You Have a Good Idea Of What a company will offer you!
One of the best pieces of advice we can give to anyone with junk cars in Kankakee or the surrounding areas is to understand why you are being offered the amount you are.
Some folks fall into the trap of thinking they'll get a high price since it's a car or it's "not that bad" and find themselves shocked and confused when they don't receive their expectations.  To prepare yourself a little better, look your car up in Kelley Blue Book online.  It's one, if not the, most reliable source for accuracy in car pricing.  However, the biggest factor in determining pricing for your vehicle is the condition it's in.  If it runs, what damage it has sustained and repairs it needs are all points of consideration.  This greatly affects how much you can expect to be offered for that vehicle.  In the case of junk cars, there is usually an amount of damage that reduces the value.
Luckily, services like Z.A.T. Cash For Junk Cars Kankakee exist for the sole purpose of helping you get rid of that junk car.  You are offered cash that same day and they tow the car away at no cost to you.  When they form an offer, everything mentioned above is taken into account.  Age, make, model of the vehicle, running condition, damages, etc. are all factored in when it comes to deciding on a cash offer.  Our Kankakee technicians have nearly 20 years experience in the automotive industry, towing and cash for cars services.  Using sophisticated software, Kelley's Blue Book and damage assessment, we are able to calculate the best cash offer possible.
By taking the time to understand what range your junk car falls in, you'll have a better and more realistic idea of what kind of cash offers you'll receive.  In the end, making some cash and having a burden removed and no longer taking up space is a win!
Instead of stressing over the details of how to get rid of that old car, call the Z.A.T. Cash For Junk Cars Kankakee specialists at 773.908.2622 today, make some cash and get back your peace of mind!