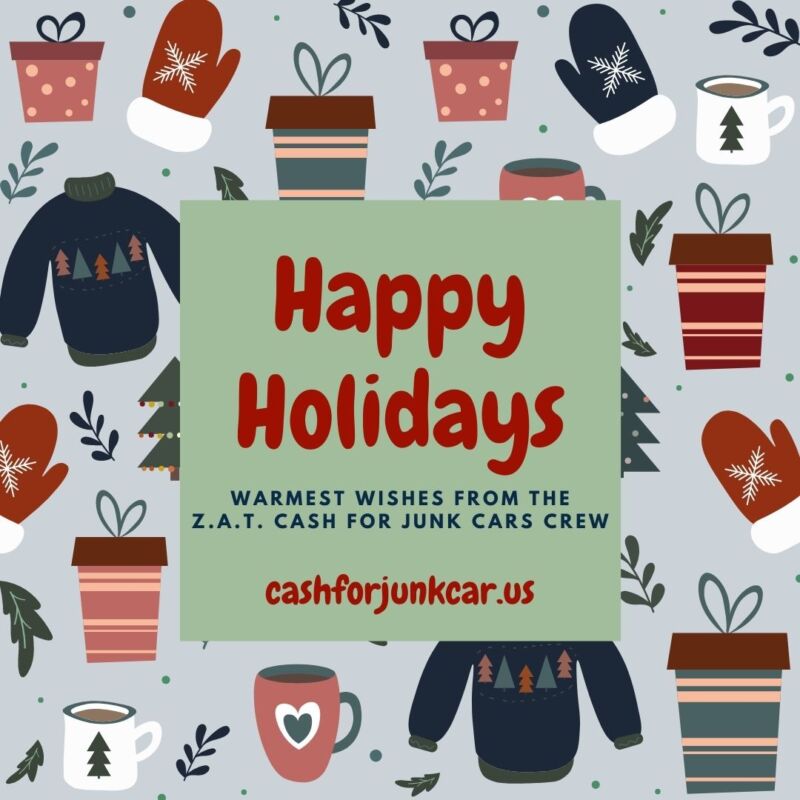 Hope this Holiday Season brings you many great memories and wonderful reasons to smile!
The entire crew of Z.A.T. Cash For Junk Cars would like to wish you and your loved ones a very safe and joyous holiday.  No matter what you celebrate, may it be full of abundance, hope and good will!
Getting stuck on the side of the road is no picnic but, it happens to the best of us.  Whether you suffer a breakdown or find yourself with a flat tire, you might just need a tow but all tow companies are not the same.  How do you know who to call?  Check out our tips on Important Questions To Ask A Tow Company before you hire them.  Knowing what to ask could not only save you some money but prevent miscommunication or a bigger issue from arising.  Getting out of the cold quickly is key so be sure to give these tips a good once over!
If 2020 has taught us anything, it's to appreciate what we have and clear out the junk holding us back.  It might just be time to get rid of that old clunker rusting in your driveway.  Before you decide to junk or sell your vehicle, take a look at What You Should Do Before You Junk A Car.  Staying on top of these simple tasks will protect you from losing important documents or valuable items and might just help you save some cash in the end.
As we celebrate the close of one year and look forward to an exciting new adventure in 2021, it's never too late to start with a clean slate.  Z.A.T. Cash For Junk Cars will offer you cash in hand that very day.  We even tow the vehicle off of your property at no charge to you.  With decades of experience in the towing and junk car buying industries, our pros are standing by to help you get rid of those eyesores and make a little cash just in time for the holidays.  No title?  No problem.  Call us today to find out how we can help.
Need to get rid of that old car?  Find out what Z.A.T. Cash For Junk Cars can do for you by calling 773.908.2622 today!